Tapan Chattopadhyay is the author of some pioneering books of research in both English and Bengali. He has also written popular novels and short stories in Bengali. His earliest published work was a book of poems, Galita Periye (Crossing the Alley), 1977, in Bengali. He has since mostly written prose, occasionally contributing poems to different litera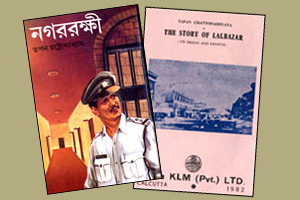 ry magazines. Recently some of them were compiled in a volume titled Ekta Samay Ashe (A Time Comes).

Though Dr. Chattopadhyay's Bengali novels and short stories now have a sizeable readership, some of his original research works based on primary materials are well known and found in almost all important libraries in India. Among them are: The Story of Lalbazar- Its Origin and Growth (Firma K.L.M. Pvt. Ltd., Kolkata, 1982), the first-ever history of Calcutta (Kolkata) Police, and Lepchas and Their Heritage (BR. Publishing Corporation, Delhi, 1990), an immensely readable and informative study of the little known tribe of Sikkim and Darjeeling found on www.amazon.com and other websites also.His recently published tome The INA's Secret Service in Southeast Asia : Its Background, Infrastructure, Resources and Activities during World War II. (Readers Services, Kolkata, 2011) is moreover, a pioneering work on the Indian revolutionary army's intelligence service.

The first thing that strikes about the author in each of his works is the choice of his subject and the delicate and racy manner with which he treats it.

Chattopadhyay was born on 13 March, 1946, in the old zamindar family of Pindira situated on the bank of the Jamuna, now in Kalna sub-division of Burdwan district, but erstwhile in Hooghly district. The family lineages extend to famous litterateurs like Kshirode Prasad Vidyavinode (Chattopadhyay) and Bamkim Chandra Chatterjee. The author's paternal great grand-mother was a descendant of the celebrated Pundit Shobhakar and Baneswar Vidyalankar (Bhattacharya) of Guptipara (Hooghly district).

The author's father Phanindra Nath settled down in Guptipara after retirement from the government service. Chattopadhyay's childhood was spent in the village and he came to Kolkata for studying English literature first in Scottish Church College and then in Calcutta University. His mother Baruna (her maiden surname was Roy, actually Bandyopadhyay), though her parents were settled in Bhubaneswar and Puri, also belonged originally to Hooghly district. She was a descendant of the eldest son of Krishna Kanta Roy of Radhanagar; Krishna Kanta's youngest son was the grand­father of Raja Ram Mohan Roy.

From the beginning, Chattopadhyay showed inclination for literature and history. He was the English editor of the Scottish Church College magazine and later became the joint editor of the University journal Ekata. After completing his university studies, he had a brief stint in teaching and research. Later, he took a Ph. D. degree in history from Jadavpur University. Dr. Chattopadhyay has worked for more than thirty-eight years as a member of the Indian Police Service (IPS) in six organisations covering seven states. In the process, he has known places and people in Tripura, Nagaland, Manipur, northern India,Sikkim, Orissa and different parts of West Bengal. He has also visited Greece, Italy, France, England, Myanmar and the USA. His varied experiences have enriched his writing.